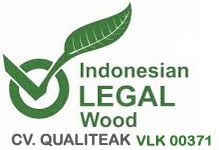 There is a benefits of buying outdoor furniture directly from indonesian teak outdoor furniture manufacturer company which is you will get the best low price as possible and you can also customized the products to meet your needs. We working on the outdoor classic models to the new custom design furniture development to enrich the collection and full filled the customers desire of being different to others.
Qualiteak, CV, is one of indonesian teak outdoor furniture manufacturer founded in year 2000 as the second company of the owner which has been working on Teak Outdoor Furniture production since the last 14 years in Jepara, Cental Java, Indonesia. We have a lot of experiences of producing and sending out containers of teak outdoor furniture products to American and European market.
We kiln dried our raw material in this case teak wood to get best result and minimizing problems of cracking and bending caused by different weather in our customer's countries, which mostly have four seasons and also extreme weather change during summer and winter.
We also have a good relationship with local furniture manufacturer that have been a city major business here in jepara city, That will provide us a more capability to fulfilled the quantity and time scheduled from our customers demands. Please feel free to contact us to get our complete catalog and price list or any other information that you needs. Entrust your furniture needs to us.
indonesian teak outdoor furniture