Teak root furniture is a unique piece of furniture that literally one of a kind in this world, the natural shape of the root cannot be replicated by any human hand or by advanced woodworking machinery.
The natural shape of teak root can be used to make any kind of furniture, we can make a simple stool and coffee table, to a full-size room divider. And of course, no two items are the same one and another.
In this post, we will explain our point of view about teak root furniture, the pro's and con's, how to buy them, and few points you need to know before you buy teak root furniture, especially if you buy them from Indonesia.
You may be wondering, where do we get so many teak roots to make a furniture product. Well…there are hundreds of thousands of acres of teak plantation forest on Java island alone. Every year, the government is harvesting suitable teak trees for market consumption.
And after the tree is cut, it must be replanted again for sustainable teak wood material chains. now the problem is the wood stump and root from the old harvested tree must be taken out from the ground so we can plant new crops on the soil. And this is how we get so many root materials to make furniture.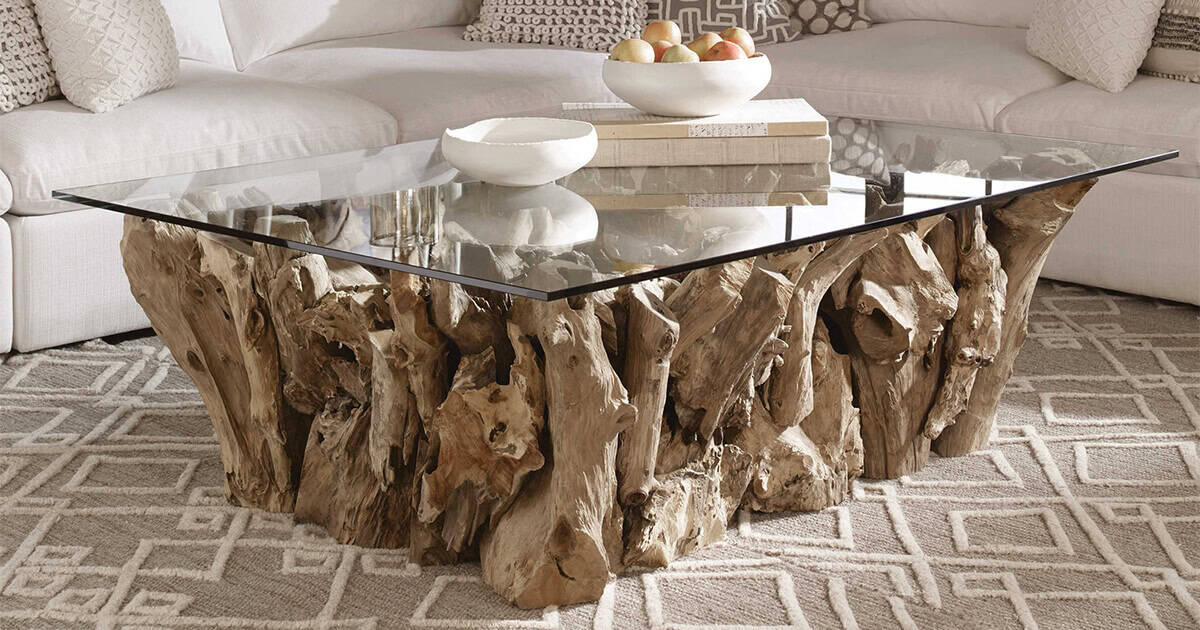 The Pros of Teak Root Furniture
The root natural shape may not suitable for everybody, but for some people, the shape is the main reason to buy teak root furniture. From our standpoint as a furniture manufacturer, there are some pros of using teak root as a building material for our furniture. Here's some:
Teak root is really really strong, well of course, since root is the "oldest" part of the tree and it functions as the main support to the tree, so it has to be strong.
The grain is awesome, it's dense and gorgeous. But you have to be a wood "fanatics" to be able to enjoy its beauty.
Water and Rot resistant, teak is well known for its rot-resistant properties, and if we are talking about the teak root, then it must be twice as good. That's why teak root is also an awesome material for outdoor furniture.
It is considered to be an eco-friendly product since it only uses leftover materials
Because of its superior material property, teak root furniture has stable market demands, it doesn't really follow the furniture trend like another style.
The Cons
Although it has many superior points, the teak root also has its own flaws, mainly is because of it shapes. Here are our two cents on the downsides of the teak root furniture.
We will be limited to a similar design or shape, which in this case a root shape. We can make any strange design but the root material will still easily recognizable.
We also limited by size, even though teak root can be found up to a 5-meter diameter span, but it is rarely more than that
As you can see from few points above, that teak root furniture is not for everybody, it's really for enthusiasts who know exactly what they want out of their furniture.
What Can Be Made from Teak Roots?
Actually, we can make almost any furniture item from the teak root, but to be honest there are only a few items that look good when using root, here is our opinion of that item:
1. Teak Root Coffee Table
A coffee table made of teak root would be a nice addition to your living room, it mostly comes in round and square shape. But since you will mostly put drinks and food on the table, a glass top is a must in our opinion. Here is some example of the coffee table made from the teak root.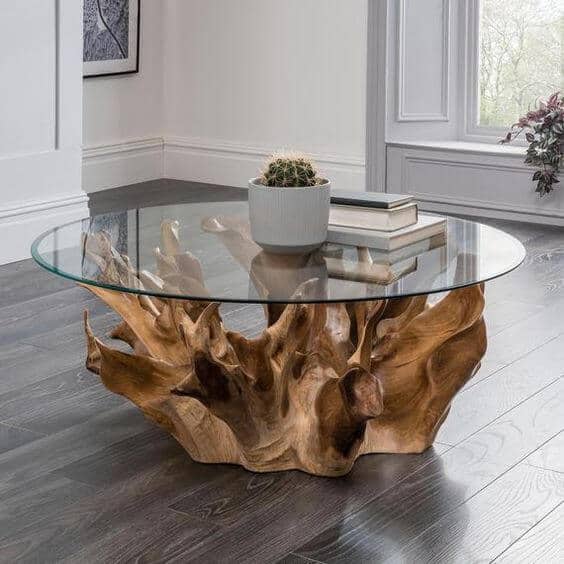 2. Dining Table
Same as a coffee table, but bigger. most of the teak root dining table is a round shape with a glass tabletop. With a round shape, we can get the maximum diameter of the tree root, and also it looks nicer for the dining table.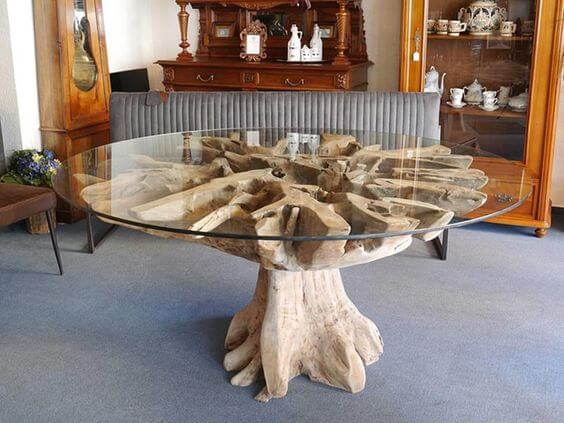 3. Console Table
Teak root console table will draw all attention in the room, so you better be careful with the design composition of the room. Most of the teak root console table comes in a rectangular shape. Here's some sample picture.
4. Chair and Bench
Another item that looks good if made of teak root is a chair and bench. Especially if we matched it with a table that also made of teak root. Here's a sample picture of a bench made of a teak root.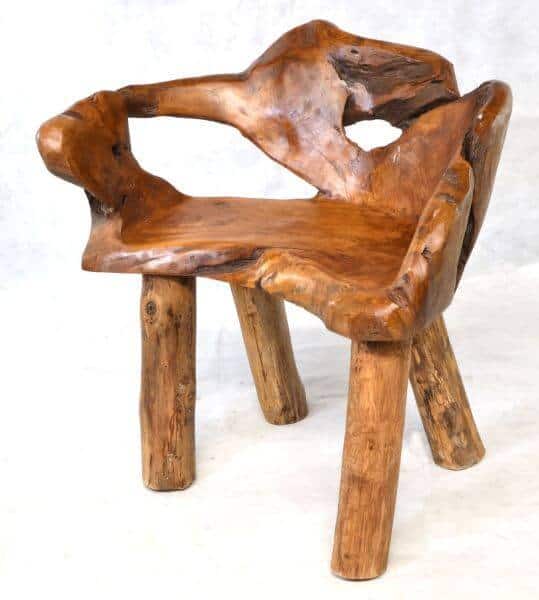 5. Room Divider
This item is popular for hotels, resorts, and other commercial property, it is BIG so it must come from a big ol teak tree.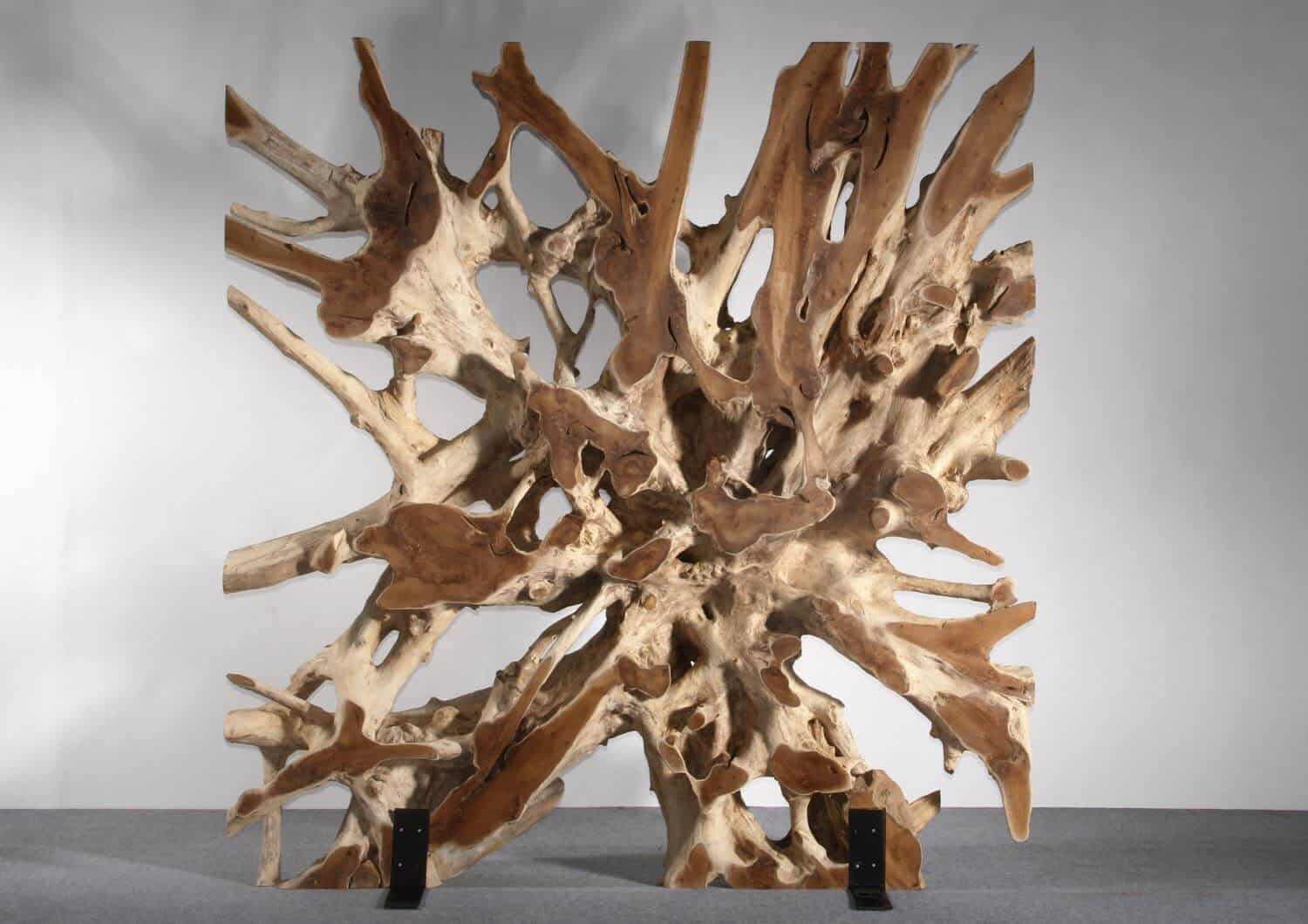 How to Buy Teak Root Furniture
The easy way to buy teak root furniture is from your local furniture store, but if you are the furniture store owner, or the project manager who needs to get furniture made of teak root then you have to look from the country where teak is widely grown. In this case Indonesia, Burma, Myanmar, India, and some south or southeast Asian country.
Because we are one of Indonesian furniture company then we would like to show you how to buy teak root furniture from Indonesia.
The first you need to do is to find a good and trustworthy supplier, to be honest, this is the first and hardest part of the job.
Explain to your supplier all the detail of furniture you like to buy, everything, even the smallest point. Write it in a form of a document so your supplier can study your requirement more thoroughly.
Ask for a sample, just to have a clear point of view of what quality you will get from your supplier.
Do your agreement, a contract would be better.
Try your best to hire freelance and trustworthy quality control personnel to make sure your order is produced as plans.
Visit your supplier would be the best option to settle everything.
As for the teak root furniture item itself, there is a few points you need to know before you buy.
It must be dry, even that most of the teak root is harvested long after the tree is cut, but still, you need to make sure
Don't accept root vine or small diameter root, small diameter root comes from a small tree, and it's not strong enough to use as furniture.
Make sure it was squeaky clean, no dirt, remaining wood chip, and or wood bark
Some of teak root furniture is joined, for example, dining chair leg. Make sure they are properly joined. No wiggle or shaky joinery
Teak Root Furniture Price
The price of teak root furniture really depends on its size, the bigger the root, the more expensive the final product will be. To gather and process such a large teak tree is not an easy task, that's why the cost would be higher compared to a small item.
For the most part, the price of teak root furniture is a little bit more expensive compared to regular wooden furniture, but for sure its all depends on the design of the item itself.
How to Care Teak Root Furniture
Caring teak root furniture is as easy as any other wooden furniture, a regular cleaning with a soft damp cloth is enough to make it stay in its prime conditions.
The only things that we need to pay attention are the hidden crevices of the root, it can be quite difficult to reach with regular wipe-off methods, we will need some kind of brush to reach the hidden corner.
If you have outdoor furniture made of teak root, you will notice that it will turn greyish color over time, this is normal since teak has a high oil content that will protect itself from water and make it rot resistant. Most people prefer to have this natural color, but if you don't, ask your furniture supplier to apply special outdoor finishes to maintain their original color.
Conclusion
Teak root furniture is a centerpiece for sure, the natural and unique shape will draw all attention of everybody in the room. But it is not for everyone, some would simply say that the shape is odd, while others say it's gorgeous.
Now the seller part, if you need teak root furniture for your home, project, or want to add new collections in your furniture store, we can produce it for you. With years of experience in furniture manufacturing, we have more than enough confidence to handle your order.
Please contact us by email, or give us a phone call to discuss your new teak root furniture project and let's built a healthy long-term business relationship. Thank you for being here, and have a wonderful life!