Indonesian Teak Furniture Factory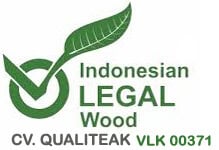 We are one of indonesian teak furniture factory, founded in year 2011 as the second company of the owner, which has been working on Teak Outdoor Furniture production since the last 14 years in Jepara, Cental Java, Indonesia. We have a lot of experiences of producing, and sending out containers of teak outdoor furniture, and also teak indoor furniture to American and European market. We working on both classic furniture design, and also new custom design furniture development to enrich our indonesian teak furniture factory collection, and full filled the customers demand of presenting fresh new furniture design to their customers. or simply for their personal property.
We kiln dried our material to get best result and minimizing problems of cracking and bending. most of the problem caused by different weather in our customer's countries, which mostly have four seasons and also extreme weather change during summer and winter.
Government Legal Certified Teak Wood
Our furniture factory only using legal wood to manufacture our products, it could be from government and also people wood which both has legal certificates. We did both from government and also people wood in purpose of giving our customer a different range of prices to match their market. Beside the new teak wood, we also do reclaimed teak wood furniture to complete the demand of some customers, which has this request from the end user.
Our business goal is customer's satisfaction of our quality and service. Customers not only doing business with our company employee, but also personally serve by the owner and our marketing staff which will giving answer 24 hours a day.  Our intention is to build a good and continual relationship, and we know that to build a good relationship will need consequence of keeping commitment to have trust, and we confidently taking that consequence.
Kind regards from indonesia furniture manufacturers owner.