Indonesian Teak Furniture Factory
We are one of indonesian teak furniture factory, founded in year 2011 as the second company of the owner, which has been working on teak outdoor furniture production since the last 14 years in Jepara, Cental Java, Indonesia. We have a lot of experiences of producing, and sending out containers of teak outdoor furniture, and also teak indoor furniture to American and European market and other country that shipping container can reach. We working on both classic furniture design, and also new custom design furniture development to enrich our furniture collection, and full filled the customers demand of presenting fresh new furniture design to their customers or for their personal property.
In order to give option to our customers, we can work with various material to produce teak patio furniture including combinations of wood with aluminum, stainless steel, wrought iron and synthetics materials like rattan or polyester fabrics. Please contact us if you want to build your outdoor furniture with us.
Legal Wood Material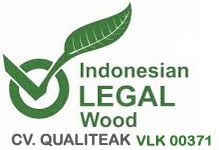 We are only using legal wood to manufacture our products, it could be from government and also people wood which both has legal certificates. We support our government policy to reduce massive deforestation due to illegal logging. which is massively happens in indonesia. we believe that we do are part of the problem, so we take the responsibility by ensuring forest replantation and illegal logging prevented by our government policy.
We get our raw material from both government forest and also people wood in purpose of giving our customer a different range of prices to match their market. Government forest are wood plantation forest run and managed by Indonesian state owned enterprise called PERUM PERHUTANI, so they are basically government property. while peoples wood are own and managed by regular citizen in their own land but also under government watch and certification.
Beside the new forest wood, our indonesian teak furniture factory also work on reclaimed teak wood material to complete the demand from some customers which has this request from the end user. reclaimed wood are gathered from old houses or building from java and major indonesian island.
One other things need to pay attention when buy outdoor furniture are hardware. Outdoor furniture are mainly use..of course..outdoors, but beach are most common place where this kind of furniture will be use, and we know that beach had a salty air which not really get along together very well with metal.
We use various hardware materials in our outdoor furniture products, start from electro plated steel, cast brass, stainless steel, aluminum and many more. all those materials must have corrosion resistance against outdoor weather especially salty air, because most of our customers use their product near to sea which salty air is always around. we put special coating onto our hardware to prevent damage and much longer durability during use. poly urethane base materials with powder coating system is best in our experience to cover this task. so when you buy our product, you will also have this special coating fit in your furniture
Our Outdoor Furniture Product
Indonesian teak furniture is a great option if you are looking for wooden outdoor products which have great value over the price. Indonesian forest are one of few country in the world that producing best quality teak wood that money can buy, so you will get high quality wooden material for your outdoor furniture products. Beside good quality material, Indonesia are famous for wood working culture which means good craftsmanship. Especially in our city jepara, that was well known worldwide for wood working skill that has been pass on from generations.
We have many experiences of producing and sending out containers of teak outdoor furniture products to American and European market. Most of them are small to medium furniture store and also some project manager who need a custom made furniture design which perfect in our vision. we make classic design outdoor furniture that you may have known and see in regular market, but we constantly developing new design to give more and fresh option to our customers. Please visit our Teak furniture product page to see our collection.
Why buy teak outdoor furniture from us ?
As we mention above, high quality raw material and good craftsmanship are the main reason to buy outdoor furniture from Indonesia, but there is one special things that will be a benefits to buy garden furniture from medium size indonesian teak furniture factory like us, which is we have low MOQ (Minimum Order Quantity) and you can do custom design order. This will be beneficial to small furniture store and furniture project that only require small quantity order and had a specific design that not available on the regular market.
We have a good relationship with local furniture manufacturer that have been a local major business here in jepara city, This kind of relationship give us capability to fulfilled the quantity and time scheduled from our customers demands. and also keep small furniture workshop in jepara city to continue their production. this is of course under our strict quality control department watch to make sure everything is match with our standart.
Our Business Goal
Our indonesian teak furniture factory business goal is customer's satisfaction of our quality and service. Customers not only doing business with our company employee but also personally serve by the owner and our marketing staff which will giving answer 24 hours a day. Our intention is to build a good and continual relationship, and we know that to build a good relationship will need consequence of keeping commitment to have trust, and we confidently taking that consequence.
Kind Regards,
Veronica Rompies
Director, Cv. Qualiteak