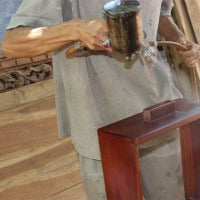 Teak wood is indeed a beautiful piece from nature, The wood beautiful grains and texture is unbeatable compare to almost all outdoor wooden materials. But…if we like to, we can paint them up to get a different feel for your outdoor ambience. Now we are talking, Paints with common materials contains high toxic and odor materials.
They can give you some bad effect on your health on long term appliance. and most affected one is our workers. They will constantly inhale the highly toxic air during their work when we are using the old materials. Without a proper masking and breathing equipment than they are taking a high toxic air that really bad for their health.
That is why we are using an eco friendly paint to coloring our teak outdoor furniture products when it was needed, They were made from water base materials so it was very safe for environmental and also safe for our workers because it is low toxic and less dangerous. a water base paint is available in so many color option so we don't have to worry about which color to apply to our furniture products, and eco friendly paint is contain a base material or primer paint, colors and top coat materials. Each of the step is using water as the paint thinners and they were very easy to apply. We can brush it or spray it to get the maximum result.
The water base eco friendly paint is very strong and durable, even for an outdoor environment that requires a heavy duty performance paint. so if you want to buy teak outdoor furniture products with an eco friendly paint as the coloring materials, a water base paint is a perfect solution for you. Feel free to contact us for more information over our teak outdoor furniture products.
Eco Friendly Paint